44 And all the believers met together in one place and shared everything they had.45 They sold their property and possessions and shared the money with those in need.46 They worshiped together at the Temple each day, met in homes for the Lord's Supper, and shared their meals with great joy and generosity —47 all the while praising God and enjoying the goodwill of all the people. And each day the Lord added to their fellowship those who were being saved. – Acts 2:44-47 (NLT)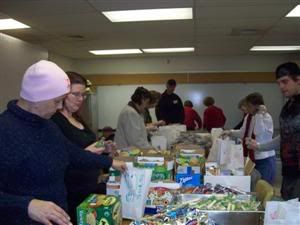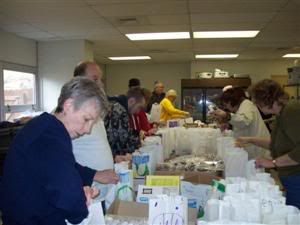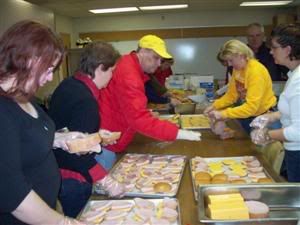 I cannot even begin to express how truly blessed I feel every time I get to hang out with our volunteers. Due to my current seasonal layoff from work, I have been able to start helping again on Thursday mornings. What a reminder of how Big and Amazing our God is! To see, with my own eyes, where God has taken this ministry in such a short time just blows my mind! I am so grateful that God has brought so many wonderful people together who are incredibly gifted in areas that I am not. Organizational skills is something that God seemingly skipped over when it came to me. What a smooth running machine the meal assembly process has become. It was fun to get to hang out with all of the volunteers. Again, I am sooo blessed!
We are excited to see what God has in store for all of us in 2010. From the beginning, Bryan and I have felt strongly led to not only serve the folks in our community who are struggling but to also build community and relationships with those who serve with us. We have some ideas in this area but would welcome suggestions from you guys also. As we have always stated, this ministry belongs to all of us (with God's direction). – Love, Amy
35 And I have been a constant example of how you can help those in need by working hard. You should remember the words of the Lord Jesus: 'It is more blessed to give than to receive.' – Acts 20:35 (NLT)
Thursday night's food delivering was not only an incredible blessing but humbling as well. We had some miniature Christmas trees donated to us by our friend John at Love Inc. and they were a HUGE hit. Very few of the motel rooms had any type of Christmas tree so it was exciting to see the faces of the kids light up. Speaking of kids, we delivered to over 40 kids Thursday night with only 5 being older than 9 years old. We were blessed by Dixie Stampede with books that our volunteers gift wrapped and then we were able to pass out that night. The excitement on the kids faces makes it all worthwhile. The Dorgan-Weaver group had put together small bags of toiletry items that we handed out as well. It was a true night of hope, blessings and giving of not only presents but of the Gospel as well. It breaks your heart when you see so many little kids going without Christmas gifts but maybe they won't get caught up in the consumerism of Christmas and will be reminded of the true meaning of it. A few months back we had a bicycle donated to us and we had given it to our friend Tony that lives in the motel. I asked him how the bike was working out and he told me it was "great." He recently rode it to Lead Hill, Arkansas and back to see his son. He was so thankful that he had it because even though it was a 3 hour bike ride each way he was able to see his little boy. We always hear "where there's a will there's a way", but in this case it should be "where there's way, there's a will." You just never know how small gifts of kindness can have a BIG impact on someone's life.
*LOAVES & FISHES STILL NEEDS YOUR HELP*
Loaves & Fishes – Map of Locations – 2010 (Loaves & Fishes Map)
Loaves & Fishes still needs to fill about 15 nights with servers and food. When a group signs up, they will receive a info packet that includes the required Health Department DVD (10 minutes). To sign up call Sue Head at 690-2241 or email shead@cofo.edu. If you would like to serve with Jesus Was Homeless please let me know as we will try to pick up a Tuesday night at Church Army if we can get the food donated. The remaining nights still needed are:
Mondays – First Baptist
Tuesdays – Church Army – January 5, 12, February 9, 16, March, 2
(does not have commercial kitchen, food must be brought in within Health Department guidelines)
Wednesdays – Our Lady of the Lake
Thursday – Branson United Methodist Church
Fridays – First Presbyterian – January 15
Saturdays – Faith Lutheran – January 2, 23, February 20, 27, March 6, 13
Sundays – Salvation Army – January 3, March 14
*HOPE ON THE ROAD BUS*
Hope on the Road Bus Route (Hope on the Road Bus Route)
Abby Lewis with the Hope on the Road Bus is looking for "Spirit Filled" volunteer bus drivers and greeters for the upcoming "Loaves & Fishes" season beginning January 2nd, 2010. If you have a CDL and would like to drive a few nights a week please contact Abby at 417-336-8234 or by email at healingnaturally@suddenlink.net
*VOLUNTEER DELIVERY SCHEDULE CHANGE*
Jesus Was Homeless food making and delivery will change due to the holiday's. See the schedule below:
Thursday, December 24th will be moved to Wednesday, December 23rd
Thursday, December 31ST will be moved to Wednesday, December 30th
*WISH LIST ITEMS*
*20 Large Print NLT Bibles Life Application Bibles* – We are hoping to begin some bible study classes & would like to give these away to everyone that attends.
*15 Passenger Van* – We can give a donation receipt for this. We are currently running 2 different routes on Thursday nights, touching almost 20 motels.
*Toiletry Items* – Toilet Paper, Razors, Deodorant, Shaving Cream
We have some things in the works for 2010 and we are excited to see what God has in store for Jesus Was Homeless next. If you want to be part of this ministry as always we invite you to "Come and See."
May you be blessed this holiday season,