9 Don't just pretend to love others. Really love them. Hate what is wrong. Hold tightly to what is good.10 Love each other with genuine affection, and take delight in honoring each other.11 Never be lazy, but work hard and serve the Lord enthusiastically. 12 Rejoice in our confident hope. Be patient in trouble, and keep on praying.13 When God's people are in need, be ready to help them. Always be eager to practice hospitality. – Romans 12:9-13 (NLT)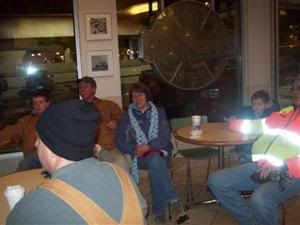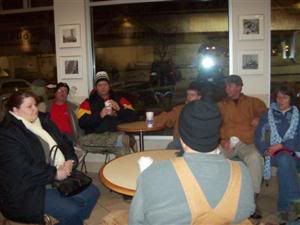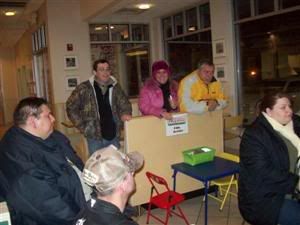 It was cold Thursday night but we still had close to 15 dedicated warm hearted people show up to help deliver food to the motels. We all met at Krispy Kreme for a hot chocolate/coffee afterwards and to share what we experienced. We all came to the same conclusion, that the need is far GREATER so far this year than ever before. What's so exciting to see though is when individuals or organizations take a person or family on and provide for them. Our friend Elton made sure Gordon got some boots for the winter. Our friends Curt and Gordon were put into motels during the severe cold weather by individuals that just had a HUGE love and concern for our fellow man. Individuals have taken food, clothing, blankets and toys to people that God has laid on their heart. That my friends, is what doing community is and it's so exciting to see!! To be able to hear the stories from our volunteers of the "God moments" they have with people when they deliver the food always confirms for me that he is real, alive and working. I overheard a conversation by a couple of volunteer's before we headed out that night. One gentleman said he didn't know if we were going to be delivering tonight due to the extreme cold weather and the other volunteer replied "If we don't who will?" That comment has really stuck with me all week. Especially when I find myself getting into "self". The bible tells us that we are the hands and feet of Jesus so how can we really expect someone else to do the things we don't want to do when we get inconvenienced? I'm sure Paul, Stephen, John the Baptist, and many more were inconvenienced a few times. Especially if they were hanging out with Jesus, don't you think?
*Here's why we do what we do:*
Branson, Missouri is a tourist destination with almost 8 million visitors per year. However, hidden in the background behind the glitz and glamour of all the music shows and attractions is a "forgotten" community of working poor. These people are living in weekly and extended stay motels, and by Hearth Act definition, are homeless or severely at risk of being homeless. In Branson alone, we have identified as many as 40 weekly and extended stay motels. We estimate that the number of people living in these motels are between 800-1200 with 200-300 being children. Many are trapped in low-paying seasonal jobs unable to earn enough money to put back for apartment rental and utility deposits. Most do not have their own transportation and with no city transit system, they need to live within walking distance of their work. Because they live in a motel, they do not qualify for any rental assistance through government funded programs. They are considered to be in a non-permanent residence yet, many of these people have lived in the motels for a year or more. It is not unusual to find complete families with as many as 3-4 children living in a single, double bed motel room. Weekly and extended stay motels typically do not even provide the basics found in a nightly stay motel such as toilet paper, soap and shampoo. Many of these "working poor" are stretched so tightly they barely have enough money for food and the basic necessities of life once their motel rent is paid. If they can obtain food they are greatly limited on how much they can prepare, with only a small microwave to cook with. Food storage is a problem as well. With only a small dorm room sized refrigerator they are not able to purchase many groceries at one time. Some motels have residents that are in drug or alcohol addiction. Often the elderly that live in these motels are isolated, afraid to come outside. Some motels have single moms with multiple children hiding from abusive relationships. Whatever the reason the need for hope, love and compassion is great.
Jesus Was Homeless service ministry is open to anyone that has a heart for people. Our goal or mission, if you will, of Jesus Was Homeless is to end hunger and homelessness in our community while sharing hope, love, and compassion. It is to build "community" with the ones serving and with the ones being served. It is to provide an ear to listen, a smile to flash or a hug to give. It is amazing to see how people will lift themselves up when they know someone cares. We try to fill the food insecurity need at least once a week as well as provide resources and contacts for additional assistance. Sometimes that's additional food, housing resources, addiction recovery, clothing, whatever we can be a conduit for. We even offer the same downloadable resources on our website at www.jesuswashomeless.org We had a young lady tell us the resource information sheet that we put in each bag had saved her life. When desperation set in, with nowhere to turn, she remembered the resource sheet and contacted the help she needed from it. The uniqueness of our outreach is that we are literally "feet on the street'. We have no office door where we are waiting for people to walk thru. By going to them, where they live, it's impossible to not become involved in their lives. We have no salaries to pay, as we are made up of volunteers from all walks of life. We are not a church, yet encourage all denominations to participate and often transport the ones we are serving, in our 15-passenger van, to a "come as you are" Saturday night church service. Because these are the forgotten, as most have jobs and are not seen by the public sleeping on park benches, we try to create awareness within the community by hosting "Love Your Neighbors" BBQ's at various weekly and extended stay motels. We invite the community to come and hang out, fellowship and eat with the residents. If they will do this they often find out the walls and barriers that tend to separate us as a community come down. Since many do not have transportation we have started collecting single speed adult bikes that we give to those that need them. We have even built a garden, with the help of volunteers, at a weekly and extended stay motel. We hope it will not only provide fresh fruits and vegetables, but also provide hope and pride by taking ownership in it. It's always exciting to watch a garden grow.
We currently visit 18 weekly or extended stay motels each week and have delivered over 11,000 well-rounded nutritious meals all by donation or out-of-pocket funding. We have a dedicated group of volunteers, 10-15, that meet each and every Thursday morning from 9:00-11:00 am to assemble the more than 300 meals each week. Church Army Branson has allowed us to use not only their facilities but many of their staff as well. We then have another group of volunteers, anywhere from 10-40, load the van with the meals and distribute them every Thursday night from 5:30 – 9:00 pm. Sometimes we are blessed with additional donated items such as loaves of bread, toys, clothing and we even had potatoes donated by Branson United Methodist Church to distribute. The volunteers will load into the van as well. This is a great way for everyone to experience a sense of community, get to know each other on a deeper level, share stories and ideas. Currently, resources and transportation are the only things limiting the number served. At a cost of $1.50 per meal, $450 per week, or $23,400 annually, we have been very cautious not to expand to motels that we can't sustain. We don't want to share, hope, love and compassion to only have to stop due to lack of resources. So as not to drain our volunteers we only deliver food one night a week. We have collection boxes for toys, clothing, and bibles at various businesses throughout our Branson community. We distribute these items each week as well. In November we will be having our 3rd annual "Love Your Neighbors" Thanksgiving Dinner for the weekly and extended stay motel people. Transportation will be provided by our van and The River church bus. We will also distribute additional food, coats, blankets, hats, bibles, toiletry items at the dinner. We hope to someday provide life skills training and bible study classes at the motels and partner with organizations or even retirees to help facilitate these. Our biggest dream is to purchase a weekly or extended stay motel and convert it into a HUD approved affordable housing complex using community partners. Through your help we can make a difference in our community. To fully understand what we do we invite you to "Come and See".
*TRAIN WHISTLE*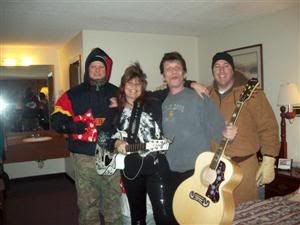 Speaking of sharing experiences that night. We had a first happen to us. We delivered some food to a friend of ours and he had a guest with him by the name of Rhinestone McKinney (sp?). She was quite the character and played a song for us. Now this wasn't just any song it was a song with a train whistle and she did the train whistle herself! It was amazing, she actually sounded like a train whistle. It was so much fun. Amy and I were talking about it later and said we would have never gotten to experience a lot of things that we have if it wasn't for delivering food on Thursday nights.
*TOILETRY ITEMS*
We still need toiletry items such as deodorant, shampoo, and toilet paper. We will be putting together sacks of these to pass out with our meals as well. There is always a need for these items as they are not provided in a weekly or extended stay motel.
*T-SHIRTS*
Help provide meals in our community by purchasing your own "Jesus Was Homeless" T-shirt. We have 6 designs to choose from. These are fantastic conversation starters and an opportunity to talk about what's God is doing in your life. We would love to have gift shops, outlets, etc. to display our shirts. We would put them in on consignment so there's no cost to become a vendor. Check them out at http://www.jesuswashomeless.org/store.html
*LOAVES & FISHES*
The third annual Loaves & Fishes program will run from Saturday, January 2nd through Monday, March 15th at the following locations: Mondays – First Baptist Branson; Tuesdays – Church Army Branson; Wednesday – Our Lady of the Lake; Thursdays – Branson United Methodist; Fridays – First Presbyterian Church; Saturdays – Faith Lutheran Church; Sundays – Salvation Army. Each night doors open at 5:30 p.m.
*POINT IN TIME COUNT*
Did you know that in the July 2009 Point-in-Time Count of unsheltered and sheltered homeless individuals and families in Taney County revealed that there were 261 sheltered and 43 unsheltered homeless individuals and families in the county? In addition to the 304 homeless individuals and families counted, there were 269 individuals and families counted in weekly rentals who were homeless, but do not meet the HUD definition of homeless. Once again, the community of Taney County is called to action as we begin to plan for the next Point in Time Homeless Count that will take place on January 27th, 2010. WE NEED YOUR HELP! We need the partnership of your organization! More importantly, our friends, local families and children, that are in the most need during this current economic crisis desperately require your help! For more information contact Christopher Welch, 417-231-2108, christopherwelch@att.blackberry.net
*HOPE ON THE ROAD BUS*
Amazing stories of God's love from Abby Lewis with her HOPE ON THE ROAD BUS. If you are not on Abby's email list and want to hear these stories her contact info is healingnaturally@suddenlink.net. Get on this list and hear what God's doing through this wonderful ministry.
Have a blessed week and try to stay warm!