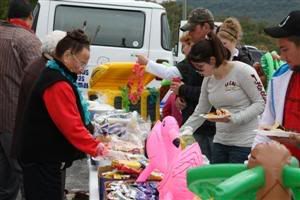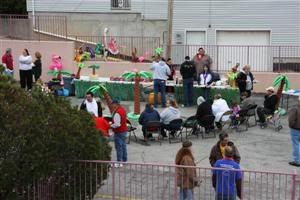 Our 4th "Love Your Neighbors" BBQ was a HUGE success. While it was kind of chilly, the inflatable palm trees gave us thoughts of the tropics, and we had the best turnout yet. Thanks to Church Army for donating over 80 lbs. of chicken and turkey for the event. Also a BIG THANK YOU to Boyd from Church Army for cooking it all the night before. If you didn't make it to the BBQ you really missed out on a wonderful experience of community. It's really quite a beautiful thing when such a diverse group of individuals can come together to share, love and give. We had such a joyous time of fellowship, games, hugs and hangin' out. Thanks to Mayor Presley for stopping by and talking with the folks. They really enjoyed her company. We discovered there are even more hurting and lost people out there than ever before. A lot of individuals are in desperate need of utility and rental assistance. I hope and pray that the grant money Taney County is receiving will be able to help.
If you missed the BBQ but really want to experience "community" as the church did in Acts then join us this Saturday, October 24th, at 9:00 am at Aunt Mollie's on Shepherd of the Hills Expressway as we celebrate "Make A Difference Day" by building an above ground garden for the residents. This is an extended stay motel where most of the folks have lived for years. We will be getting it ready for the spring so that all they will have to do is plant their fruits and vegetables. Often times folks that live in these motels rarely get to eat fresh fruits and vegetables as they do not have regular sized refrigerators or cooking stoves. This will be a wonderful addition for them, but we desperately need a dirt donation. We need approximately 25 cubic yards of top soil for the garden. Remember we are a 501c3 and the donation would be tax deductible. If you know anyone that might be willing to provide help or materials please don't hesitate to give them my number.
Please provide prayer this week for good weather, the arrival of volunteers, dirt, and that God will touch lives through this servant project.