BEFORE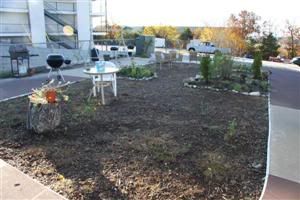 AFTER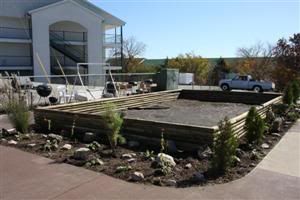 VOLUNTEERS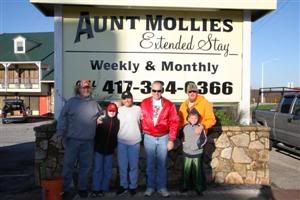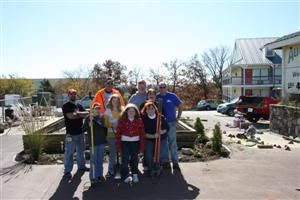 Saturday was national "Make A Difference Day" and we chose to build a garden area at Aunt Mollie's motel. This is a weekly & extended stay motel. A lot of the residents here have been there for a long time. One has been there for over 6 years. When you live in a motel room, you usually only have a microwave for cooking and a small refrigerator for food items. Most of the time you don't get to eat fresh fruits and vegetables. We thought it would be nice for them to have something they could not only take pride in but also reap the benefit of tending to their own garden. It's always fun to watch items in a garden grow. Will it make a difference? Only God knows for sure but it made a difference with us as volunteers. We enjoyed being able to do the project together, we again were blessed to experience community with each other and at the end of the day we all are looking forward to the spring to plant fruits and vegetables with the residents. All of our dirt ended up being donated, thanks to some wonderful people and God's blessing, it's just been to wet to have it brought in.
Make sure to check out our "Jesus Was Homeless" video on You Tube. All the pictures on it are locations just 1 block off the strip and motel rooms on the strip.
Jesus Was Homeless Video
We've had a lot of requests about ways to help so I've included some below:
We can always use awareness for our neighbors in need. Being a 501c3 non-profit we are always in need financially for a Tax Deductible Donation, food item sponsors, T-shirt distributors and Community Cash.
Weekly Food Items:
ITEM
COST
MONTHLY DONOR
Paper Sacks
0.021
$32.00
Chip Ziploc Bags
0.016
$25.00
Sandwich Ziploc Bags
0.016
$25.00
Napkin
0.010
$12.00
Drink
0.186
$238.00
Mustard Packs
0.011
$18.00
Mayo Packs
0.038
$45.00
String Cheese
0.147
$180.00
Granola Bar
0.164
$200.00
Turkey/Ham
0.343
$420.00
Chips
0.189
$215.00
Cookie Ziploc Bags
0.021
$25.00
Cookies
0.045
$60.00
Bun
0.000
McDonalds
Cheese Slice
0.052
$68.00
Applesauce Fruit Cup
0.240
$300.00
Spoon
0.020
$24.00
Verse
0.010
$12.00
Resource Sheet
0.020
Sir Speedy
Total Cost per Meal $1.54
Volunteers:
Meal Makers – Every Thursday Morning 9am-11am
Meal Deliveries – Every Thursday Evening 5:30pm-9:00pm
Children's groups to color Happy Face sacks
Donate Needed Items:
Bikes – New or Used Adult Single Speed
Bibles (Large Print) & Kids Bibles
Refrigerator
Deep Freeze
Thanksgiving Dinner:
Paper Plates, Food, Volunteers, Awareness, Etc.
Toiletry Items – Soap, Shampoo, Razors, Deodorant, Tooth Brush, Tooth Paste, Toilet Paper, Shaving Cream, Etc.
Winter Items – Hats, Gloves, Coats, Blankets, Socks, Etc.
Prayer:
For Resources
For the ones serving and the ones being served.
For $1 Million Dollars & Community Partners –
…to buy and renovate a weekly stay motel and convert it into a HUD approved affordable housing complex
Have a blessed week,