1 While Jesus was in the Temple, he watched the rich people dropping their gifts in the collection box.2 Then a poor widow came by and dropped in two small coins. 3 "I tell you the truth," Jesus said, "this poor widow has given more than all the rest of them.4 For they have given a tiny part of their surplus, but she, poor as she is, has given everything she has." – Luke 21:1-4 (NLT)
I wonder how many us give much thought to this verse during the holidays.  I know that I have been guilty of thinking that I have been a generous giver, until I realized, most of my giving comes from my abundance, after I have made sure of my needs first.  The past year of working with people that live in the motels has started to change that way of thinking for me.  Most of these folks live paycheck to paycheck, yet, we have had so many that will give us anywhere from a dollar to five dollars, just because they want to contribute and give back.  Every time they do it reminds me of the poor widow.  To give not from our abundance but from our "lack of" is a true testament to your faith in God providing.  I really encourage you to think outside of the consumerism of the holiday season this year.  Instead of buying stuff for people that will just end up in a landfill in a few years invest in the people.  Pay someone's rent, or utilities, or insurance.  Take them to dinner or better yet bake some cookies and spend some time with them.
We all have different income levels, different levels of abundance, and different needs but one thing we all have that is equal is "time."  We each have the same 24 hours in a day and the same 7 days a week.  I would encourage you to give freely of your time this holiday season to someone or someone's that you might not normally reach out to.  For instance, give someone a ride that is walking in the cold even though you are going the other direction, visit with someone in a restaurant that is sitting alone even though you are ready to pay your check, take a little extra time to find out more about an employee or co-worker that you don't work closely with, invite someone that might be alone for the holidays to spend time with you, go Christmas caroling at a nursing home like my friend Dwight is planning on doing.  This year Amy & I decided that we are going to open our house up to the people that live in the motels on Christmas day.  People shouldn't have to spend Christmas alone.  We are just going to watch movies, eat junk food, and build relationships.  Whatever you do this holiday season, give until you're "uncomfortable", give to those that have less than you, offer hope and be an example of the widow.
*MAKING A DIFFERENCE*
Sometimes you don't know if you're making a difference.  As volunteers it's important to hear that you are or you can "burn out" and quit.  Well this week we had 2 examples of making a difference.  We had asked for help in putting smiley faces on our sacks for the "Happy Meals" and had several teachers from the schools step up.  Pam, a teacher at Branson, was dropping off some of the sacks the kids had decorated and shared this story with us:
I was visiting with a student who was here earlier in the year, then moved with mom and her friend.  Evidently there were some problems, so he was sent back here to live with Dad.  Dad and this student live in a hotel room.  I was checking in with him to see what school supplies he needed and also to make sure he was ok. I asked him if they had enough food, blankets, a coat…etc.   He shared with me that something neat happened…."these people brought by these "sacks" filled with a ham sandwich, a granola bar, and even some juice with a straw!!!!  He said it was the best ham sandwich he had ever had!!  This is a great kid, who lives with a Dad that is struggling.
We also received a Christmas card at one of the motels we deliver to.  Inside was written, "Thank you all so much.  You guys have helped us in so many ways when we really needed it.  Thank you so much.  We hope you all have a great Christmas!  Love Josh & Jessica."
I know you're not told often enough how appreciated you are but rest assured and know that you ARE impacting lives and making a difference!!
*WEBSITE*
Take some time to quickly look at our website.  We've updated the PRAYER LIST page.  Please take five minutes to pray for those listed.  The power of prayer can heal those hurting.  We've also updated the WISH LIST page.  Please note we would really like to get some NLT Life Application Bibles.  These sell for about $40 a piece at a bookstore and we need about 20 to start with.  We are hoping to have a bible study class at one of the motels in 2010 and would like to give these to everyone that attends.  The photo gallery should be updated soon with the Thanksgiving pictures.
*NEW T-SHIRT DESIGN*
You've heard me reference Shane Claiborne often.  We now have a Shane Claiborne quote available "How can we worship a homeless man on Sunday and ignore one on Monday?"  This will be on a burnt orange color shirt.  Remember when you purchase a shirt for $10 you are helping to provide 4 meals in our community.  We will now have 6 designs and are still looking for outlets for the shirts to help support this ministry.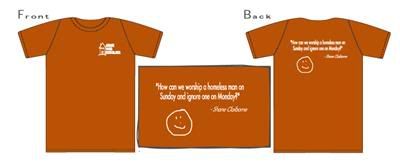 *DIXIE STAMPEDE*
A big THANK YOU goes out to Dixie Stampede.  They donated over 100 books for us to give out to the kids that live in the motels.  We have volunteers wrapping them and will be ready to play "Santa Claus" for a lot of young tots this week and next.
*REMINDER* – *VOLUNTEER DELIVERY SCHEDULE CHANGE*
Jesus Was Homeless food making and delivery will change due to the holiday's.  See the schedule below:
Thursday, December 24th will be moved to Wednesday, December 23rd
Thursday, December 31ST  will be moved to Wednesday, December 30th
Have a very blessed week and remember the reason for the season!!