11 Why am I discouraged? Why is my heart so sad? I will put my hope in God! I will praise him again— my Savior and my God! – Psalms 42:11 (NLT)
Another fulfilling week of delivering meals. You can tell the season is right around the corner as many of the people we were delivering to had much more hope in their voice when we were talking with them this week. It is so amazing to see the many volunteers week-in and week-out that continue to show up to serve. Our new slogan has been that we are an organization with no organization as we try to continually let God lead. When we let that happen he does amazing things. I was so blessed last week as I got to stand back and watch in awe as the volunteers served people with no other agenda than to let people know someone cares. As Troy said last week, "we get so used to seeing God's miracles each week we almost think it's normal." It's always great to have newcomers join us because they have a fresh set of eyes and we get to hear what God revealed to them.
*PASSED AWAY*
I am saddened to share that our friend Mark Pajak who had cancer and lived in the Rowland Motel passed away. When we spoke with him one time we asked if there was anything we could get for him and he requested a wheelchair so that he could get outside. The very next day God provided the wheelchair and he was able to use it a few times before he lost his battle with cancer. Mark had a very dedicated friend and business partner by the name of Harry. Harry told us that Mark loved the lord and he was sure he was in heaven. It still saddens me to think that there are people out there living and dying alone in motel rooms. It's just evidence of a broken and fallen world.
*VOLUNTEER STORY*
Every week we run into something. This is an experience that our friend Annie wanted to share:
I am a College of the Ozarks student and I have been participating in the Jesus was Homeless ministry in Branson for about eleven months now. I love passing out meals and building relationships with the people. I also enjoy getting to know the people who come each week to help pass out the "Happy Meals". You can see God working in the lives of the people we serve and those who are serving. Every week brings new surprises and situations to deal with. There are many stories and circumstances that stick out in my mind since I started helping with this ministry, but I am personally connected to my most recent story.
On Thursday, March 11th, I was shocked to find two people I knew living in one of the motels in which we provide food. I am student teaching this semester, and I knew that there was a good chance that I would see some of my students living in the motels, but until this point it had not happened yet. At first I did not know what to say when I saw my two students standing in the doorway. I was so astonished to see them in this situation. One student had recently moved schools and the other student was in the process of moving schools. My heart broke for my high school students. They are both good kids, but it seems like trouble follows close behind each one of them. We gave them the food and I stayed and talked with them for a few minutes. I encouraged them, and as I was leaving said a silent prayer for God to protect them. I am worried about them, but all I can do is pray for each student and help provide food and other needs on Thursday nights. I plan on visiting them each Thursday night that I can for as long as they are in the motel. I leave them in God's merciful and all-powerful hands.
–Annie Farr
*RELATIONSHIPS*
10 The thief's purpose is to steal and kill and destroy. My purpose is to give them a rich and satisfying life. – John 10:10 (NLT)
Things tend to go in seasons. I have several friends right now struggling with their relationships. The enemy's main purpose is steal, kill and destroy and this is what he wants to do with relationships, especially ones that have God in them. I remember when I was going thru my divorce I went to a friend of mine to get some "ease and comfort" by him hopping on my band wagon of pity. That is not what I got. He looked me squarely in the eyes and said "you can't be too surprised you didn't have God in your life or your relationship." It was not want I wanted to hear but it was sure what I needed to hear. It stuck with me so much that when Amy and I decided to get married I wanted to make sure we had God's full approval. I believe we did and that's when the enemy attacked us from every front. I believe he was determined to take down our marriage. We were so blessed that we had very healthy friends around us to help walk us thru some of the things we were going thru.
One of our friends was instrumental in directing us to an organization called National Institute of Marriage. They offered a 4 day marriage intensive that teaches couples how to communicate at a deeper level and to share from the heart. When the enemy learned of this he started to put objections in our path. Things like, "we can't afford it", "we can't take that much time off of work", "counseling doesn't work", "you only need this other program", "just use the bible and pray about it", and the list goes on and on. I believe God's word is like a tool box, you can't carry tools around to fix things if you don't have the foundation of the tool box. I also believe God provides tools to go into the tool box with different programs, training, studies, etc. I can't drive a nail with only a tool box, I need a hammer. I began to look at the relationship skills that NIM offered as a tool that can go into my tool box. Amy and I needed to learn how to share from the heart and all the prayer in the world wasn't helping. We needed God to provide the hammer that we could put into his tool box. Through NIM's 4 day intensive, twice because we needed more tools, a very loving couple that was dedicated to walking thru life with us by meeting with us every week after the intensive for almost a year, and some intense conversations with each other we made it thru and we feel like our marriage is the healthiest it's ever been. Thru all of this we were able to begin serving God's kingdom by investing in people, delivering meals, and spreading God's word. No wonder the enemy didn't want us to make it. If your relationship or someone you know is struggling, remember your spouse is not the enemy, Satan is and he wants to rob you and God of what your relationship could be. For more information about what NIM offers check out the Links Page on our website.
*GARDEN DAY*
We hope to finish up our garden at Aunt Mollie's on March 27th. We will need to spread the dirt, plant the veggies and install the drip lines. We will begin around 9 o'clock and could use all the green thumbs that are available. Hopefully the rain will hold off that day.
*MOTEL BBQ*
Look for the details on our 1st Love Your Neighbors BBQ of 2010 in April coming soon!!
*T-SHIRTS*
Get your own "Jesus Was Homeless" T-shirt and help provide meals in our community. When you purchase a shirt for $10 you are helping to provide 4 meals in our community. We have 6 designs to choose from. These are fantastic conversation starters and an opportunity to talk about what's God is doing in your life. We would love to have gift shops, outlets, etc. to display our shirts. We would put them in on consignment so there's no cost to become a vendor. Check them out at our "T-Shirts":http://www.jesuswashomeless.org/store.html page.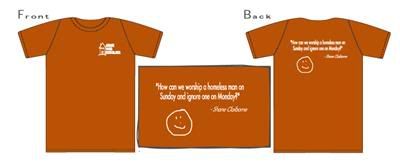 *SNOW?*
Now to leave you with something that I just find hilarious. This is our Jamaican friend Orinthia. She left Branson for work in Philadelphia and had never seen snow before. I think she's seen it now as they have had record amounts. This picture just makes my day every time I need a good laugh. There is nothing funnier than a Jamaican eating a snowball and of course we told her not to eat the yellow snow. Have a blessed week!!!